People in the radio business often say that it's the guest, not the topic, that makes or breaks a program. A great guest can make any topic interesting, a bad guest can ruin the most interesting topic. It's often true.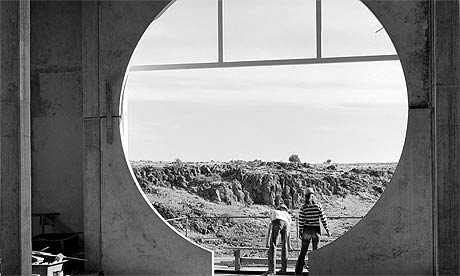 This week I'm really excited about the
story of Paolo Soleri
, an Italian architect who built an extraordinary eco-city in the Arizona desert in the 1970s. But he was too ahead of his time and struggled for the past 30 years to make all his visionary plans into reality. Finally the world caught up with him and now recognizes his genius and vision. You can see him offering sage advice in Leonardo DiCaprio's documentary
The 11th Hour
.
Since Soleri is popular on the lecture circuit, he could be a good radio guest. So my fellow producer, Dan, and I set out to find him for a possible radio interview. Yes, he's still in Arizona at age 89. Oh, no, he has a very heavy foreign accent and is not up to a full hour live interview. So we ran into a classic problem for radio producers: a great topic but unsuitable guest. Reluctantly, we decided to drop the topic. What a pity!
Thanks to this blog, at least I can tell you about this great man. His life story is inspiring for all of us even though you may never hear it on radio. Now you may also understand a little better why that great topic you emailed us has never become a radio show.
(This entry was originally posted on Blog without Borders on Aug 30, 2008.
)